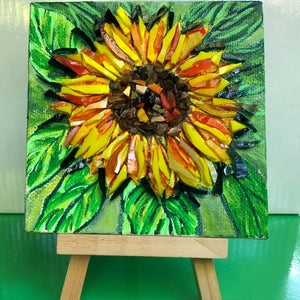 Mosaic glass acrylic painting, 4x4" easel included
. A sunflower is a bold and eye-catching flower that symbolizes adoration, loyalty and longevity. Much of the meaning for sunflowers stems from its' namesake the sun. 
The uneven hand-cut glass distorts the light and changes the colors. 
A mosaic painting is never static.  Its colors become animated by the changing light throughout the day. Their patterns wandering inviting your thoughts to wander with them.
Prepare to be amazed!